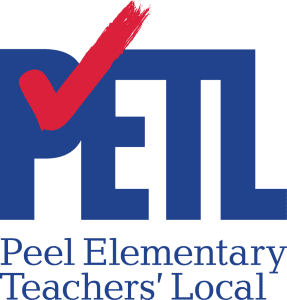 September 3, 2019
Dear PETL Members:
I first want to start by saying thank you and congratulations to all members for a successful start to another school year in your classrooms and workplaces.  Your professionalism and dedication to students and fellow colleagues remains unending, admirable and first-rate.
It is sad and devastating to us as professionals that our current provincial government does not and will not respect teachers and educational workers as is evidenced by the cuts that have been made to education. The current government's agenda is to balance the budget on the backs of educational workers and health care professionals ignoring the repercussions on children and the most vulnerable in our society. This is not a government for the people.
The Elementary Teachers' Federation of Ontario, as vowed by Provincial President Sam Hammond, will work to fight to retain our contractual rights.  Understandably, this creates much uncertainty and angst for members.   These are unprecedented times and by far the most difficult times as seen by the teaching profession.  But as your president, I would ask that members stay calm, united and strong as we work through this together.  It is in the darkest of times that our courage and our resolve are tested.
Solidarity is key and we must remain united and in solidarity.
Developments in our current situation can come quite quickly. ETFO, as the provincial organization, disseminates the information to be shared.  Developments unfold at the provincial level and as information is made available to us, please know that PETL will provide that information to members as soon as possible. Please ensure that you check the Member Secure Area on a regular basis and that you follow the Local on Twitter (@etfopeel), Facebook (@etfopeel) and Instagram (@peeletfo).  If you haven't already, please register for The ETFO Member News. This publication is for members only and the public can no longer subscribe to, and receive, this publication.
If you are an ETFO member and are not receiving The ETFO Member News, please make sure Member Records has your up-to-date, non-board email address on file. You can update your information in one of three ways:
Send an email to trecords@etfo.org.
Telephone ETFO at 416-962-3836 or 1-888-838-3836 and ask for extension 3806
Complete the Update Member Information form on this website.
Collective Bargaining eNewsletters
During rounds of Collective Bargaining, regular updates are sent to all ETFO member email addresses on file. If you are not receiving these emails, please follow one of the three ways outlined above to update your member information.
PETL thanks you for all that you have during this difficult time. Your professionalism, courage, and calmness are to be commended.  I am very proud to be the president of one of the finest memberships in the province.
Stay inclusive, stay united, and stay strong.
Yours in solidarity,
Gail Bannister-Clarke
PETL President